So, this year I decided to make a trip to Peru. I wanted to go to Machu Picchu , Cusco & Lima. I decided to book my trip again through Orbitz. I priced it both ways and found it cheaper to fly into Cusco first them Lima next. So, I did it that way. There were no direct flights to Cusco, so I had a 2 hour layover in Lima on the flight there.
I also booked my Hotels on Hotels.com again. I like that they give me a free night for every 10 I book. I then booked the Machu Picchu stuff ahead of time, because I heard sometimes it sells out. I tried for a week to book on the official Machu Picchu site, but the site never took my order. So I purchased tough the travel agent ticket-machupicchu.com, which just charged a small booking fee. I also heard the train to Machu Picchu sometimes gets sold out, so I booked that in advance too. During the trip I found out that I missed buying something else I needed to get to Machu Picchu, I'll discuss that later.
So, day 1 we fly into Lima on American Airlines for our connection. Customs line was small and smooth. No problems at all. We boarded the connecting flight on LAN Airlines to Cusco with no problems. During this flight we had a TV with a flight tracker. The ride should only be like 50 minutes, but I kept seeing the flight get longer and longer on the tracker. Turns out we were going in circles for a while, then we got sent back to Lima They said there was too much fog to land. So, we get back to Lima and got on another flight to Cusco. That one was allowed to land. We were supposed to arrive at 7AM, we got there about Noon.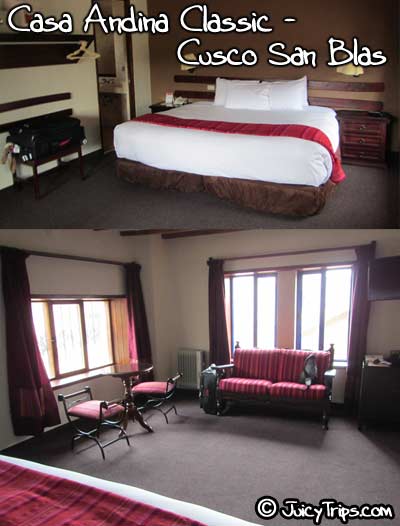 We took a taxi from the airport, it cost 20 Sol. All taxis from the airport cost more than anywhere else in Cusco. For the same ride in the opposite direction it costs 8 Sol. Anyway, we got to the hotel Casa Andina Classic – Cusco San Blas. They gave up a free upgrade, so I ended up liking the hotel a whole lot. Big windows with nice views. It was also in a nice location with a quick walk to the Gatos Supermarket to get some water and also a quick walk to Plaza de Armas. Plaza de Armas is the center of the Historic section in Cusco.
We were supposed to see some sites, but since we were flying for 12 hours because of the delays we decided to just go to Plaza de Armas and take some photos. Then get something to eat and call it a day. While walking to the restaurant for the first time in my life I felt the altitude. I wasn't feeling sick, I just could feel a difference in my body. We were getting warned by everyone not to overdue it, or you'll get altitude sickness, so we just took it easy and found a restaurant called "Tinta Restaurante Cultural y Galeria de Arte" to eat in. I choose it cause it had a sign that said food art. It was food art. The food was extremely delicious I ordered some Yuca as an appetizer It was fried balls with an olive inside and peanut butter sauce. I would have never imagined that combination tasted good, but it was delicious. The causa was also great. As an entree we just had some chicken skewers to play it safe because people kept hearing stories of other tourist getting sick and not making it to Machu Picchu. So after a great meal we headed back and went to bed early to catch a 5:30am train.
Day 2 we woke up and went to the train station. The train to Machu Picchu is no longer running all the way to Cusco, so they put you on a bus for the first 2 and half hours. Then switch you to a train for the next 2 and half hours. I bought the upgrade to the VistaDome train. I was reading on another site that it wasn't worth it, but I did it anyway. I am glad I did, because it was well worth it. They fed us both going there and coming back. We didn't even know that was included and neither did the other people around us. Also, on the way back our regular attendants put on a fashion show for us. The point of the show was for us to buy stuff, but it didn't matter, they made it real funny and lots of dancing.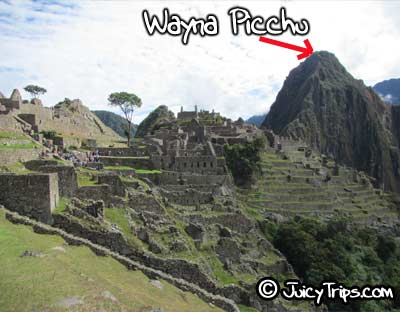 The train stops and we got off. I already bought my Machu Picchu ticket , and just did a very long bus ride and train ride. So, I thought I was done and ready to walk to Machu Picchu. I was wrong. There is another bus ticket you have to buy to get to Machu Picchu. So after some confusion we bought that ticket and did another bus ride.
.
We were now in Machu Picchu. The best advice I can give you about Machu Picchu is not to buy a regular tour. If you book direct you get the option to buy a limited entry ticket to go to Wayna Picchu and Wayna Picchu is awesome. There are multiple spellings of it. It is also spelled Huayna Picchu. It's about a hour and a half hike from the beginning of Machu Picchu. It's steep and fun. They when you get to the top, the view to Machu Picchu is flat out amazing. The peak of Huayna Picchu is about 8,920 ft above sea level, or about 1,180 ft higher than Machu Picchu. During this hard hike we did not feel the altitude at all. Cusco was actually a lot higher at 11,200 ft above sea level.
So, we did this great hike. Enjoyed the top a bit and came back down. We explored the rest of Machu Picchu then had to catch the train back. We had another 5-6 hour ride back. The ride back was a lot longer than they told us. We got back about 8pm and went out to eat. The food in that restaurant isn't even worth mentioning. I order my favorite soup which is Chupe de Camorines and it was pretty bad.
We then went back to the hotel we had a 6am flight to Lima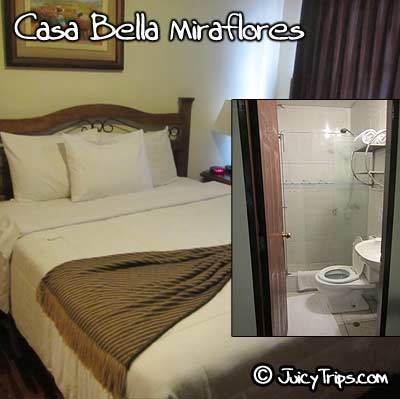 So day 3 we get up to go to Lima. When we arrive we already booked a taxi for the whole time we are there. We went to our hotel in Miraflores. It was the Casa Bella Miraflores. It is next to the Love Park in Miraflores. The park is very nice, but I didn't like this hotel. The bathroom had ants. The towels had dead ones stuck to it. I told the front desk, they came up with RAID. This was a 3.5 star hotel. If I go to Peru again I'll go with a 4 star.
Since we had the taxi for the whole day we just went to the popular sites and took some pictures and ate at a Chifa Restaurant. Chifa is a term used in Peru to refer to Chinese cooking in which many of the ingredients originally used in China were substituted by those available in Peru due to a lack of ingredients.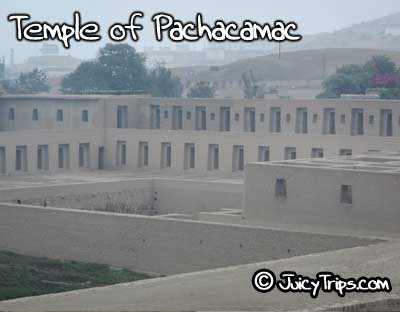 Day 4 we booked a tour through the hotel to the Temple of Pachacamac. The tour was actually a lot better than I thought it would be. We started my doing to some sites in Lima I missed the day before. and then the Guide just made the trip very interesting with discussion of life in Lima, jails, poverty,incan sex, sacrifices and lots more.
After that we went to the artisan markets along Av. La Marina to get some Incan gifts. They have lots of booths and a great selection there. And that's it. That was my short 4 day Peru trip. We left for the airport that night.