I took my trip to Alaska the 3rd week in July. July is usually a great month to go, but this year the locals said it was colder than normal. I didn't mind the temperature at all though, what was unfortunate were the clouds blocking the views at certain times. The nice thing about going in July is it doesn't get dark until 11:30pm so you have longer days to do more activities.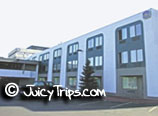 I booked the flight to go to Alaska on US Airways and I was armed with my iPod and Nintendo DS for an 11 hour flight. Nintendo DS is good for any age by the way, I like the Big Brain Academy game for it myself. US Airway delayed my first flight though and cancelled my second flight, so I ended up being in airports and airplanes for 18 hours. They also, lost 1 of my luggage for a day, so remember it is always a good idea to pack 2 days of clothes and essentials in your carry-on. The first night I was walking around in Alaska in a T-Shirt, it didn't seem cold to me that night though.
The first hotel we stayed in was the Best Western Golden Lion Hotel, which is not walking distance from downtown so you will need a car rental or taxi to get around. I defiantly would not recommend that hotel. The major problem was I had my iPod stolen out of my room. Another problem was hair in the food in the restaurant inside this hotel.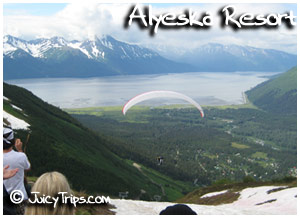 The second day there I rented a car from Enterprise. Car rentals are a whole lot more money in Alaska compared to other states. Enterprise was the cheapest, and when we got there they gave me a Chrysler Aspen, I thought I was getting a compact car, so when they gave me a Chrysler SUV I was very happy. The whole day we just drove around to local places around Anchorage and took lots of photos. We went to Alyeska Resort and took a tram up the mountain and enjoyed the view. They had some people paragliding which looking like a ton of fun, and looking back wish I did.
Later that day we went to the Alaska Wildlife Conservation Center. The AWCC takes in injured and orphaned animals year-round and provides spacious enclosures and quality animal care. You can see many animals up close there and is a nice place to take a short stop at.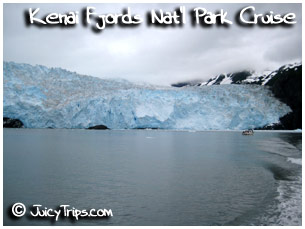 The third day there I took a 4 ½ hour train ride from Anchorage to Seward for the Kenai Fjords Nat'l Park Cruise. Seeing a glacier up close like this cruise takes you is a must do in Alaska, if I had to do it over though I would try to do a shorter cruise. Being on a six hours cruise to see the glacier was a bit long and I fell asleep most of the ride.
The 4th day I took a 5½ hour bus ride to Denali and stayed in the Denali Bluffs Hotel the first night. The Denali Bluffs Hotel was average and had an odd sewage smell outside, so I wouldn't stay there again. After check in we went on an 8 hour Denali Tundra Wilderness Tour. Our bus broke down 30 minutes into the tour, and instead of sending a new bus right away, first they sent a repair man to try to fix it. So, we sat in the same spot 1 and ½ hours until they decided to send a new bus for us. We saw a bear and cubs on the tour and some doll sheep, but not much else. Again I would recommend taking a shorter tour, the ride was to long.
The 5th day we switched Hotels to the Denali Crow's Nest Cabins, the hotel cabin was very nice and very rustic looking. However the shower water was either freezing cold or scotching hot. It would not set to a temperature you can tolerate, and the front desk said they couldn't send anyone to fix it until the next day after we left.
In the afternoon we went river rafting. River rafting is always a good time. This river was a class III river so anyone can do it. They put a dry suit on everyone, so nobody's clothes underneath got wet. There was even a point where we all jumped in the freezing cold river with our dry suits and floated down the river hanging on to our rafts. It was a very fun memorable time.
We returned from Denali to Anchorage on train, it was delayed and took 9 hours. I would recommend taking a bus instead which takes 5½ hours. On our return we checked in the Inlet Tower Hotel. The Inlet Tower Hotel gave us a suite, and it was very nice, it also was walking distance from downtown. I would stay there again.
2 restaurants I like in Anchorage were Sullivan's Steakhouse which had awesome pre-buttered and split crab legs, and also Phyllis's Cafe & Salmon Bake. Phyllis's Cafe & Salmon Bake is an outdoor café with outdoor heaters to keep you warm. I had the All You Can Eat crab leg special, and the food kept coming out really fast and really good.
That's about it for the trip, the airplane ride back was trouble free with no delays on US Airways.