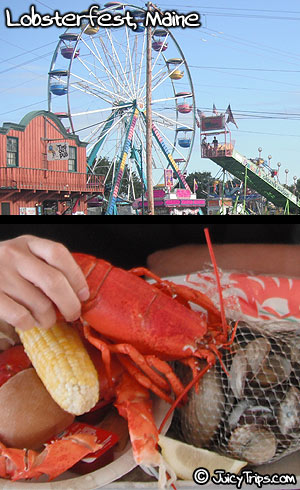 In the begining fo August I went to Lobsterfest in Rockland, Maine. I booked my flight on Orbitz again. The only bad thing was I could not find any direct flights from South Florida to the airport in Portland Maine. So, I had no choice but to make 1 stop in Atlanta. The flight went smooth and I arrive in Portland.
I book the trip for Wednesday to Sunday and that was too long because there's not much to do in Maine. Which is also why this will be one of my shortest reviews.
We drove Lobsterfest in Rockland. It would actually be a great place if I had kids. It's like a fair, with lots of rides. I have no kids and went directly to the food tent. The food tent was awesome. I had a choice between a 1-lobster meal, 2-lobster meal, or a 3-lobster meal. They also had another side with all sorts of fried fish. I got the 1-lobster meal with clams and extra claws. It was delicious. We ate for a while, then walked around the fair. There wasn't much for Adults, so we just stopped at a New England Clam Chowder stand, and got some and drove back to the hotel.
While the Lobsterfest was a great with the food, we had problems finding things to do the other days. We went on some tours in Portland like a food tour and a bus tour. They weren't that great, but to be honest I never been on a bus tour that I liked. We also went to Freeport Maine which is like a small town that is a Mall. If you want to go shopping go to Freeport. There's just now much else I can recommend to do in Miane, just go with an empty belly and eat some good food.