I decided go to Seattle Washington in the beginning of May to see what it had to offer. I booked my flight on Orbitz again, they had the cheapest rate. The airline was Alaska Airlines. I was hoping for the best since it's a 7 hour flight. I thought for such a long flight I would get one of the bigger planes with extra leg room and seats that recline pretty far. I was wrong, the plane was pretty small and all the seats had that annoying built in headrest that sticks out way to far, so far that it's impossible to use the comfortable inflatable travel pillow I brought with me. Other than the annoying headrest, I had no other problems with Alaska Airlines.
.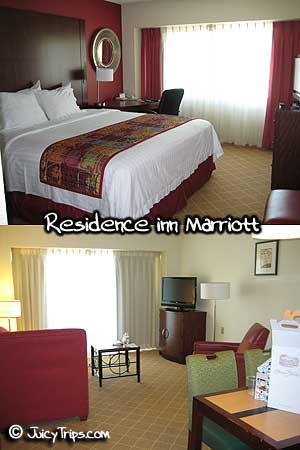 When we arrived we picked up the car rental at Hertz. We paid to upgrade to the Cadillac SUV. It was a nice car, but man the GPS that Hertz installed in it was the worst ever. I never had a GPS that got me lost so many times. This thing constantly gave wrong directions.
.
We then went to the Residence inn Marriott, which was a great hotel. With a very good free breakfast every morning. We were hungry so we walked across the street and ate at Duke's Chowder House for lunch. I had the Clam Chowder and Fish which was very good. We then just went down to Pioneer Square and walked around, it's a very nice area. After hanging around there a few hours we were very tired and drove back to our hotel. We then walked across the street again and tried to eat at Joey's Lake Union, but the wait was to long so we ate at Duke's Chowder House again. This time I got the Lobster Chowder, and it wasn't very good.
.
.

The next day we tried going to the Ape Caves, but our GPS got us way to lost. So, we just went to see the views and walk around Mount St Helens. The weather in Seattle was kind to us. It only rained 1 day we were there, and it was sunny most of the time. So, we got some great photos at Mount Saint Helens. The hiking paths around there weren't marked that great. We were on a trail that was supposed to about 3 miles long, and we kept going for 4 miles and saw no end, so decided to walk back the way we started. We were exhausted from all the walking and the jetlag, so we didn't do much else that day. We just stop at Cabela's to but some cold weather gear for the white water rafting the next day, and then ate at Ruby Tuesday.
.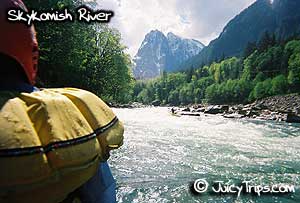 The next day we headed to the Skykomish River to do some white water rafting. We booked with Alpine Adventures. Our guide for the trip was pretty good. Unlike the guide I had for my last trip in San Francisco, this one made a point of taking us to the hardest part of each rapid and making us paddle through it. Also, after we passed though a rapid we would go back and do stunts on it like surf. This was my 6th time white water rafting and it was the first time ever fell off the boat, but it wasn't just me. We all fell off, because we flipped it while doing a wheelie stunt. Man that was water cold!!! The beginning of May is a great time to go white water rafting because the water is high, but bring you cold weather gear. I was very happy I bought under armor long johns and under armor undershirts the day before.
.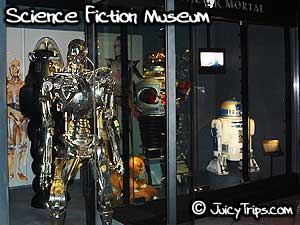 On the forth and fifth day we bought tickets on the grayline double decker bus for 2 days. I'm not sure it was worth it since they stop running early, but the guides on it did give great tips on where to go. On those days we did things like go to the Seattle Center. I didn't go up th Space Needle, cause I've been up many tall towers and I know it's a waste of time. Views lookineg out on the city are not nice. View's looking into the city are nice. To take a nice photo of Seattle, go on a water taxi, and you will get great pictures. At the Seattle center we also want to the Science Fiction Museum and the Experience Music Project. I though the Experience Music Project was pretty cool.
.
.
.

Food. Pike Place Market maybe the coolest thing in Seattle. Lots of food around there and lots of hand-made shops. One place you should stop in is Crepe de France. We got both a mozzarella crepe and a nutella crepe, both were great, but if you never had a nutella crepe before then you gotta get one! There are 2 more places I highly recommend eating at. One is Joey's Lake Union, we went there on a weekday, since the first time we couldn't get a table fast enough. The food there was superb. I got the Shrimp & Pesto Pizza Appetizer, the Grilled Chicken Souvlaki, and the Molten Lava Chocolate Soufflé, all of it was awesome.
.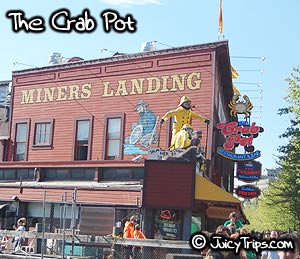 The second place I would recommend is The Crab Pot. The Crab Pot has a great atmosphere. They don't give you a fork, a knife, or a plate. You just get a bib, an wooden board, and a mallet. They then dump a huge load of Fresh Seafood on the table for your group to share. You have to try this place.
.
.
.
.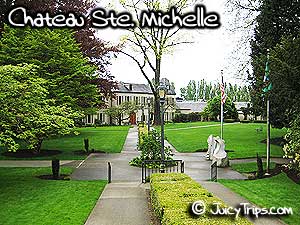 The only other thing we did was drove out to go on a Winery tour. We went to Chateau Ste. Michelle, which gave us a very nice tour and free wine tasting. This is the only good winery tour we found. There are many place out there that say they have wine tasting, but when we drove to them they were in industrial parks, so we didn't bother going inside.
.
Well, those are my Seattle recommendations. Have a great trip!