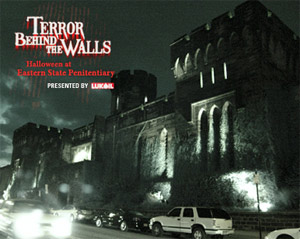 Last Halloween I was watching the Travel and they had the top 10 haunted Halloween houses in the US and Philadelphia had like 3 in the top 10. I love haunted houses, they are really funny to me and I like to go with people who scream. So, I went to Philly and was planning on going to 4 of them. I wanted to go to:
Eastern State Penitentiary – Terror Behind the Walls
Fright Factory
Field of Screams
The Bates Motel
Unfortunately I found out when I got there that none of them were open on Wednesday and Thursday, so I could only go to 2 of them. So, I decided to go to Eastern State Penitentiary and Fright Factory. I went to Eastern State Penitentiary first. I bought my tickets online and went early so I didn't have to wait in much of a line. And there was big line I saw when I got out. Eastern State Penitentiary is the best Haunted House I've been to. It took me about 35 minutes to walk though and took some other people that I knew that went 24 minutes. Most of it is a prison theme obviously and they have a lot of great actors working there. There's a section called Night Watch where the only light is a flashlight they give you. I was disappointed with that section because everyone had a flashlight and it made it way to bright in there. The section in there that stands out is the 3-D Experiment which was flat out awesome. It had wicked colors and was very cool. I don't believe in ghosts but many people believe that Eastern State Penitentiary is haunted. As early as the 1940s, officers and inmates reported mysterious visions and eerie experiences in the ancient prison. And the ghost sightings have only increased since Eastern State was abandoned in 1971. It really is a great attraction to go to.
Saturday I went to Fright Factory. I bought my tickets online which was more expensive than buying in person since they have coupons that you can print out. I was glad I bought online though because there was a long line. Fright Factory wasn't as good as Eastern State Penitentiary, but it still was lots of fun. It took me like 25-30 minutes to walk through. Fright Factory has a few themes: mines, asylum & vampires. I was crazy about the mines, it was nice and dark, but was mostly just black curtains. The asylum was my favorite part. They had some great actors in there, they just need more of them. Then the vampires section had some actors that made my friends jump the most.
Bottom line is both were a great time and I recommend you going to all the haunted houses you can because they are fun!
Update: The Bates Motel Review