Here is my detailed review of everything I did to book and go on my New Zealand and Australia trip. First, I decided which cities to visit. I like doing adventure stuff, so I saw the best city to be in was Rotorua which is about 3-4 hours from Auckland the capital city. So, I decided I would fly into Auckland, drive to Rotorua right away stay a few days. Then I would go to Auckland 2 nights, fly from there to Sydney, Australia, stay there 2 nights. Then fly back home.
I usually book my flights on Orbitz, because they usually have the best deals. But this time I found booking directly from Hotels.com. Note: I found a few weeks after I booked that the price for one of my hotels when down, so I called and they gave be a refund for the difference, because they have a price match guarantee.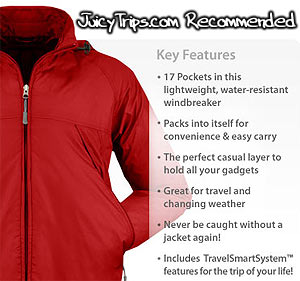 rolling carry-on as my luggage and that is it. I also purchased these awesome 11 pocket cargo pants, and this 17 pocket windbreaker that folds into a small packet. I like a lot of pockets when I travel to hold my maps and water.
Beginning of my trip… My flight from MIA to LAX was very smooth, no problems. When I got to LAX though I had a 5.5 hour layover. So, I decided to check out the reLAX Lounge in the Tom Bradley International Terminal. It's open to the public, has low rates & good free snacks. If you have a long layover it's a nice stop. I sat on one other their nice chairs, read a book , and then went to my next flight. The flight from Los Angeles to Auckland was 13.5 hours. So, I made sure my iPod Touch & this no-plug battery charger I bought were both fully charged.
Even though the flight was 13.5 hours it wasn't that bad. The seats had decent leg room and reclined pretty far. Qantas have free wine or beer & the food wasn't bad at all. Everyone had their own TV and half the time I would watch movies & the other half I would put on my iPod and go to sleep.
When I got to Auckland I purchased a SIM card at the airport for an unlocked blackberry phone I had. This was very useful, because we used the phone several time to book activities. We then went to get our car rental, we booked through Jucy.
Driving on the left took about 5 minutes to get use to, then it was just normal. The only thing that kept throwing me off was that the turn switch was on the opposite side. We had asked the car rental agent for the scenic route from Auckland to Rotorua. The scenic route was not worth it. We took the 2 and we just saw hundreds of farms and cows, nothing more.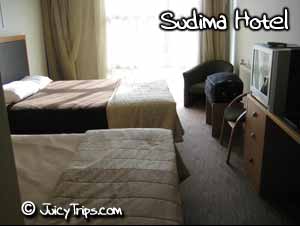 Sudima Hotel. It was a very nice hotel, our room was pretty big, I was expecting a tiny European type room. I would stay in this hotel again.
The Shed and I had an awesome burger that had on it a steak, a patty, and really good thick bacon. We ended up eating at The Shed a few times. Rotorua doesn't have a big restaurant selection. Many places in NZ have you order at the bar and the bring it to your table, weather it be food or drinks, the waitress don't take order. Also, I have to say the local NZ beer is Export Gold and it is excellent.
.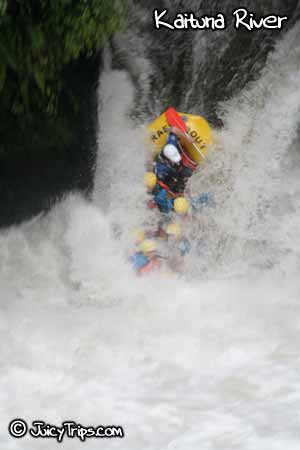 UnderArmor Cold Weather Gear, because we were going white water rafting and that water is cold! We booked our Rafting with RaftAbout and it was a great choice. They have a good photographer and the person on kayak also does video. We went on the Kaituna river which has the tallest commercial waterfall in the world (7 meters). It was an awesome ride, it rained hard the day before so the water was high, it was actually at the highest allowed for rafting. The only bad part of the Kaituna River is how short the rafting trip is. It only lasted 45 minutes.
After our rafting trip we drove to Off Road NZ. Where we drove some Go carts in the rain on their outdoor track which was fun as hell. Then we did the 4WD Bush Safari. Which allowed us to drive there 4×4 vehicle on a crazy course through water and very steel slopes. It was a great time. We were supposed to do Zorb, but then a local talked us out of it and said it only lasted like 10 seconds. After all the fun we went back and ate at The Shed. The meal was okay the ribs had a huge portion but not so good barbeque sauce. After dinner we went back to the hotel at slept 11 hours this time from 8pm to 7am. While we were in New Zealand we really just are 1 meal a day. We made it a huge meal, but I guess we were distracted from all the activities.
Kaituna Kayaks. We each had a tandem kayak with our guide in the back, because if we kayaked by ourselves we would die, since we have zero experience. Kayaking have us way more control on the river, and I now have a new hobby.
After the kayaking we went back to Off Road NZ and did the did the 4WD Bush Safari again, because we had a lot of fun and really didn't know what else to do. After that we ate at Fat Dog, where I had this huge burger that was a foot and a half tall. I also tried the Mata Beer which I didn't like so much. We headed back to the hotel and went to sleep even earlier because we were getting up at 4am to drive to some caves that were 3 hours away. Alas we only slept 10 hours that night.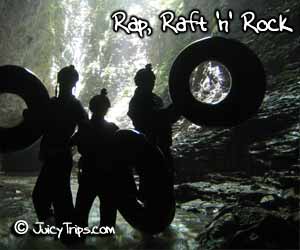 Rap, Raft 'n'
Rock. They offer a combo tour of black water rafting, glow worms, caving, abseiling, and rock climbing. This was worth the ride.First we abseiled into a huge chasm. Again we had the highest allowed water levels and we walked through a very strong river current into a completely black cave. The only light we had was the light on our helmets. It was a hard walk. Sometime we had to go against a strong current and sometimes trying to not fall off the rocks on the side. There are no stupid railing here. This is legit and natural. After that we got on our tubes and went down the river in the caves. Looked at a cave of glow worms in the pitch black. Then we rock climbed up. It was a very fun trip.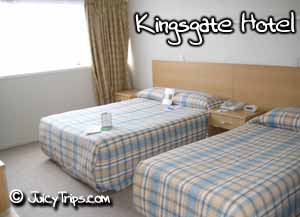 Kingsgate Hotel Parnell. The heat in our room wasn't working right, so I wouldn't stay there again. We ate dinner and went to the Minus 4 Bar. They provide jackets and gloves, since it's minus 5 degrees in there. They have a very since staff, but we were the only ones in there so we took some photos with the ice sculptures had 2 drinks and left quick. The next day we went to the Sky Tower. I was thinking of doing the sky jump, but locals said you went down a little slow and it wasn't exciting, so I was going to the the Sky Walk instead. But then they said I couldn't even take pictures I have to buy their 1 $50 picture, so I just left.
We then took a ferry to Waiheke Island and did some wine tasting. My favorite was all the wine at Cable Bay Vineyards. After the tastings we took the ferry back and had some dinner by the bay then went back to the Hotel for some sleep.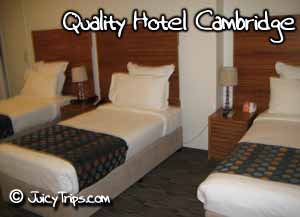 Quality Hotel Cambridge. It was a very nice hotel, but it had one of those switches where you have to put your door key in to make the electricity work. Well, that decided to stop working at night, so they upgraded us to a 3 bedroom. Again the hotel is very nice, but like many big city hotels they charge a lot for parking, $25 per night.
We decided to go to the Taronga Zoo. We got there a little late so the only show left was the bird show. The bird show was cool, but we went to a better zoo the next day. That night we ate at Churrasco. We had to wait for the table, but it was worth the wait. We didn't get a menu, waiters and waitresses kept coming all night with different meats, potatoes, and pineapple and you told them if you wanted some or not. We loved this meal, but man was it fatty meat.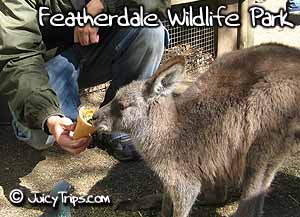 Featherdale Wildlife Park. This zoo was awesome, kangaroos come right up to you and you feed them. You can also touch a koala and take a photo for free. The other zoo charged $20 to do that and it was only during certain hours. After the zoo we took a trip to Blue Mountain for some sight seeing. We went to the Three Sisters rock formation. I wouldn't recommend driving all the way up there for it, there wasn't much to see at Blue Mountain.
.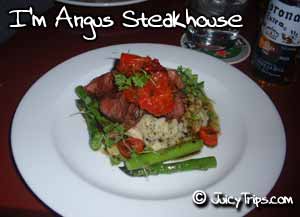 I'm Angus Steakhouse in Darling Harbor. They had the best garlic bread I ever ate in my life. It was soft, tons of flavor & zero grease. I also tried kangaroo meat for the first time. It had good flavor, but it is a very chewy meat. I had it cooked medium. After that we got some gelato and walked back to the hotel. Our vacation was over.
.
Well, that is it. So in closing all I have to say is if you like adventure sports on your vacations, go to Rotorua, New Zealand!