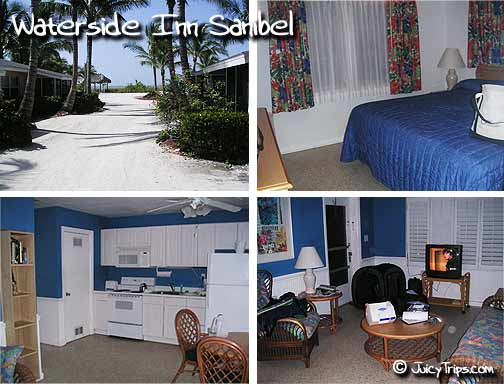 Sanibel Island is where you go when you want to get away from everyone and everything. There is not much to review because the point on Sanibel Island is to relax, sleep on the beach while you get a tan, and really the only thing else to do is got bike riding. I stayed at the Waterside Inn at Sanibel Island. I choose it because they allow pets in their cottages. As you can see above the cottages are nice. The kitchen was supplied with glasses and pots and pans that we used. Also, we were able to drive on the sand and park right next to out cottage, which I liked a lot.
We would get up at sunrise and take a long run on the beach with the dogs. Then come back for breakfast and got back on the beach for naps and tans. Then we would go out for lunch and have the leftovers for dinner. We went to Biddles Bucket, where I had frog legs for the first time. Frog legs don't taste like chicken, they taste like fish, and not good fish. Other than that the Seafood at Biddles Bucket was great. They have a nice selection, and would recommend them. There is actually a decent selection of restaurants on Sanibel Island and also a supermarket where we got supplies for breakfast.
In closing all I got to say is if you want to travel with your pets Waterside Inn and Sanibel Island in a nice place to go.