In June I took a trip to Denver Colorado. I tried to find the quickest non-stop flight from South Florida, so I booked on Orbitz. I got a direct flight to go there on Continental and a direct flight coming back on Frontier Airlines. They flights were uneventful. For the first time though I was on a flight with my own personal TV were I had to pay to watch it. It was an $8 fee I think. I though the price was good, but I didn't like the TV show options they had. So I watched movies on my iPod Touch half the time and slept the other half.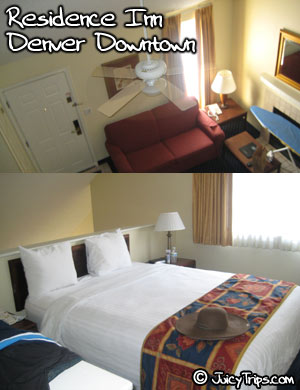 The Hotel I booked directly on the Marriott website. I booked the Residence Inn Denver Downtown and got a suite with a loft. The room was great and came with free buffet breakfast. I didn't consider downtown though, because it wasn't close enough to walk anywhere. The hotel had a free shuttle though that will take you anywhere in a 3 mile radius, which was very nice.
The Car-Rental we booked was with Budget-Rent-A-Car. They gave us a Chevy Malibu as a full-size car. It looked mid-size to me, wasn't that happy about that. Also, I had to spend 30 minutes having the budget salesperson at the airport try to make me upgrade every little thing. She even try to make me upgrade to XM-Radio. Which by the way worked free in the car. She tried to make me do a bunch of pre-paid gas upgrades, a $40/day car upgrade, then a $20/day car upgrade, then a $8/day car upgrade. It took forever to get out of there. Also when we had to wait for the Budget-Rent-A-Car shuttle at the airport it took like 30 minutes to come. The shuttles for the other car-rental companies came much more often. So, bottom-line, I wouldn't recommend the Budget-Rent-A-Car at the Denver Airport.
When we got to the Hotel, the electricity was out, so we went to the supermarket to pick up some drinks and snacks for the week. Then we headed back to the hotel for some sleep.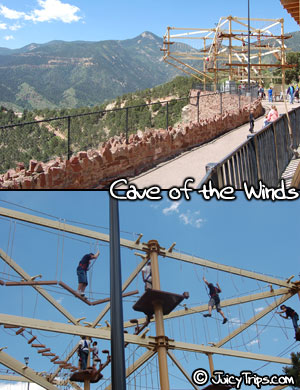 Our first full day there we went to the Cave of the Winds. We took a 45 minutes guided trip. It was decent, not the best. They had a cool rope course there though that hung off the cliff. I have to say I thought it would be easy, but walking on a rope over a cliff did get to me, it's a lot different than having something solid under you. I enjoyed it better than the caves.
From there we went to the Garden of the Gods, which was very close. The had some awesome rock formations, but it was annoying to go to a rock and see a hundred people standing by it. So we just did a hike instead. The hiking there is great. 4 miles feels like 8 miles with all the ups and downs.

That night we went to the Buckhorn Exchange. While the prices are high, it was worth it with all the new meats that I never had before. That night I tasted buffalo, elk, yack, quail and duck. There was a consensus of what we all like. We all loved the buffalo and quail. The yack and duck were also good. The elk is not a good tasting meat.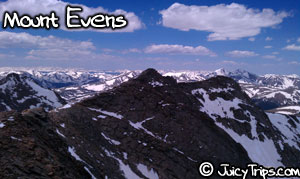 The next day we took a drive to Mount Evens. I've been up a few mountains, but this was the best. Mt. Evens is the highest paved road in North America, and the drive is awesome. There's no railing here, you can always look down and see that you can drive right off it. Once you get to the top you can do a very short hike to the tippy top. We got some great photos up there.
After Mount Evens we did a scenic drive to Central City and BlackHawk which are gambling towns. Then we heading to get some dinner. We went to Steubens in Denver which my friend saw on the TV show Diners, Drive-Ins and Dives , I got the lobster roll. I liked it, had bad French fries though. All the French fries I had in Colorado where soggy and nasty for some reason.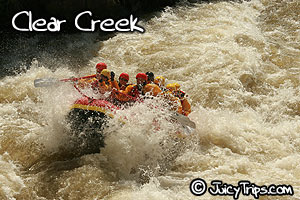 The following day we went White Water Rafting on the Clear Creek with Raft Masters. The water lever was high and man the River was moving faster than any River I've been on. We did a full-day intermediate trip, since I had my nephew and didn't want to bring him on advanced. The river was non-stop, it had no edys. It was a great time. The trip was short though for a full day. Total time was like 3 and a half hours. On a side note this rafting company has the best lunch. They get their food from the BBQ place next door and I had a great pulled-pork sandwich.
For dinner that night we ate at Pagliacci's Italian Restaurant. I got the Italian Variety Dinner, and the manicotti was awesome.
Well that was it. The trip was only 3 full days, but we did a lot and had a lot of fun.